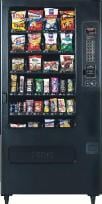 Vending Solutions is happy to offer snack vending machines to hotels…very large apartment communities…and workplaces with at least 75 employees.
We have the snack vending machine installed for you
We keep the snack machine fully stocked with products you want
We take care of all service and maintenance issues
You benefit by having a free and convenient snack vending machine for yourself, your employees and your customers!
Snack Vending Machine Products
Vending Solutions can place snack machines with a variety of most major national brands as well as regional vending products.
Some product options include chips, candy, cookies, pastries, and healthier products such as granola bars, nuts, trail mix, pretzels and more. Some typical national brands include Snickers, Frito Lay, M & Ms, Doritos, Lays, Nutri-Grain, and many more.
Machine Specifications
Snack Vending Machines vary between individual models to suit most locations' space requirements. Snack machines tend to range withing the following dimensions: 68-72" H x 29-41" W x 30-34" D.
Snack Vending Machine Requirements
In order to place a snack machine, Vending Solutions is required to place a soda machine as well.
Unlike sodas, snacks have a much shorter shelf life. It is important that the snack machine does enough volume so the products do not spoil. Vending Solutions typically requires at least 75 full time employees when placing a snack vending machine in an office location. Special consideration is given to locations with a large amount of traffic such as Hotels.
Contact Us
Answers to questions about our vending machine program can be found in our FAQ section. For more information use our online form to send us questions or call toll free at 1-800-655-7564. We look forward to serving you!